Canadian Diamonds
The Canadian Diamonds shown below are from the Diavik Diamond Mine which is located on a 20 kilometer square island, informally called East Island, which is in Lac de Gras located within the Northwest Territory of Canada approximately 300 kilometers as the crow flies Northeast of Yellowknife which is the Capital of Canada's Northwest Territories. The Artic Circle is located about 220 kilometers North of the mine.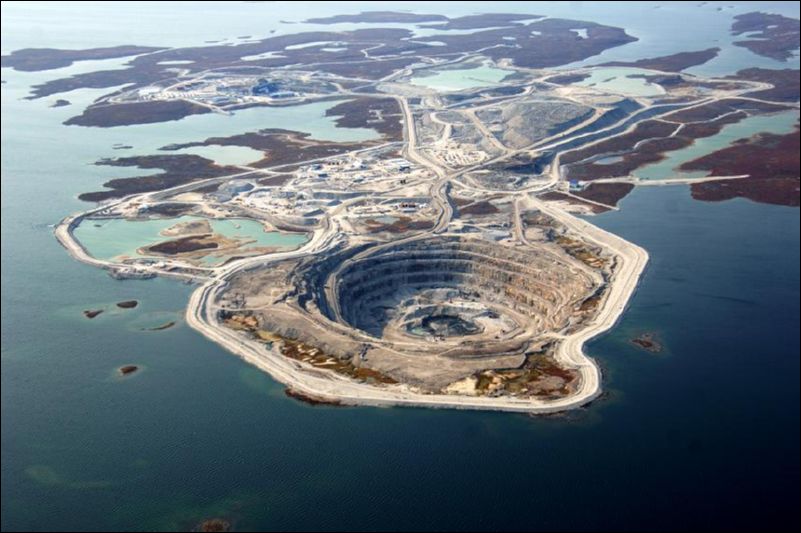 The key to operating a mine in Canada's remote wilderness is a private ice road which is shared by various mining companies that are operating in the area. The road has been in operation for about twenty years and must be rebuilt annually to maintain service. Approximately 75% of the road is ice and is built over frozen lakes. The road looks like this: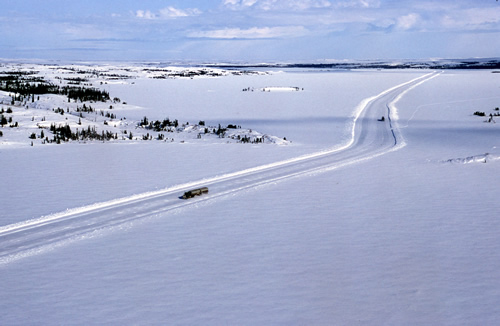 Panorama of the Fox pipe, the largest of the Lac de Gras pipes (17 ha). This pipe alone had 6.6 million carats of rough diamonds in reserves. At an average per-carat price of $129 US (in 2003 dollars), this is one very valuable mineral deposit. The dashed yellow line contours the kimberlite body (black) exposed by mining. The rest of the rock excavated and hauled out of the pit is... granite removed to access the diamondiferous kimberlite! When the Fox and other similar volcanic kimberlites erupted, the local climate was very different. Not only were there no snow on the ground, but this entire area was covered by marsh and redwood trees (see next photo) and teeming with all sorts of aquatic animals.
This is about how much diamond rough is produced at the Ekati mine every day. To extract this amount (~2.5 kilograms), some 15,000 tons of kimberlite have to be mined, crushed, scrubbed, screened in a ferrosilicon slurry every day! Keep in mind that only a fraction of these crystals are transparent and sparkly enough to classify as gem-quality stones.

Back to the funny money page!
Back to the main site of funny pictures, photos and videos!