Pictures of koalas…
… in the Australian heat wave of 2009

With temperatures above 115 ° Fahrenheit, koalas suddenly became much less fearful in Australia, even asking water from cyclists!
EDIT: July 31th, 2009:
I received an email from a reader (Mr. Gardner) with the following information, which I thought needed to be shared:
You said on the page that the koalas where searching for water as a result of a heat wave. This isn't true, these koalas where dying of thirst and desperately seeking sources of water, as a result of the recent bushfires across the state of Victoria, as I'm sure you must have heard of. Koalas usually get their water exclusively from the leaves of eucalyptus trees, and do not directly drink water, so this is an extremely rare sight. The Victorian bushfires caused very dark times for Australia, as did thousands of people across the state lost their homes and even lives, as well as did thousands upon thousands of animals. The animals that survived were left to live off very little, as most of the fauna was burnt to the ground, and will take years to recover. These pictures represent the desperate measures these poor lost creatures will go to for the chance to survive. They may seem cute, but we Australians do not see them as funny, not one bit. So it annoys me to see you pass off a simple heat wave as an explanation for these pictures. Would you please change it?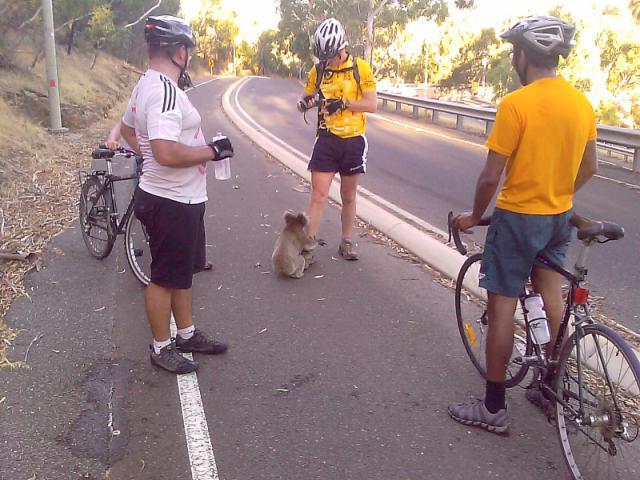 In the following pictures, you can see a small koala that went in the back porch of a house to escape the Australian heat.
The woman filled a bowl with cold water, and after drinking some of it, the koala entered the bowl to cool down.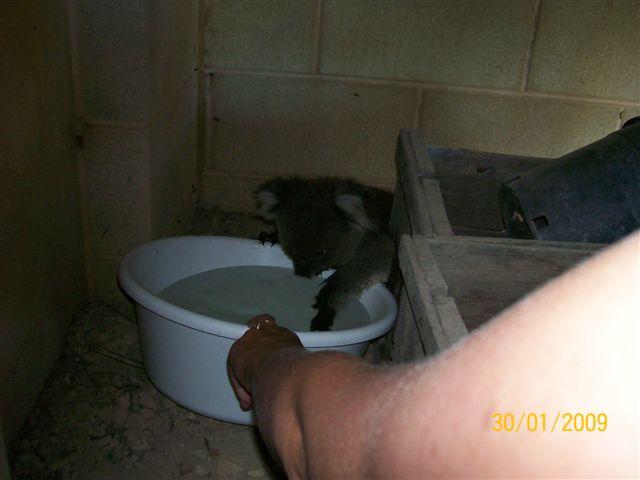 Back to the funny animals page!
Back to the main site of funny pictures, photos and videos!